Michael Goldstein, President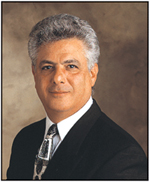 Michael Goldstein graduated from Michigan State University with a degree in accounting and a minor in engineering. After graduating, he worked for Steel Products Engineering Company (Speco) in Springfield, Ohio, and Daldi & Matteucci (Demm) in Milan, Italy.
In 1964 he joined his father in business at Cadillac Machinery Co., Inc.
From 1974 to 1984, he was director and partner of Industrial Plants (UK) Corp. Ltd., a major industrial auctioneering company in Europe. Michael Goldstein has also been an active member of the Machinery Dealers National Association (MDNA). He was on the National Board of Directors from 1976 to 1993 and was a member of the Executive Committee from 1980 to 1993. He has held numerous positions, including president of the MDNA Information Systems and publisher of the Locator of Used Machinery. He headed the group that developed an electronic mail system, "SUPERMATE," for the used machine tool industry to provide a nationwide network for locating second-hand machine tools. In 1985, MDNA presented Michael Goldstein with the Distinguished Service Award.
Michael has served on the council of the European Association of Machine Tool Merchants (EAMTM) since 1989. In 2003, Michael was honored as a Fellow of EAMTM, organized in 1940, only the 19th person and only the second non-European to have been given this award.
Like his father, Michael Goldstein has contributed to many areas of advancement in the industry. In 1984 he realized the need for greater dissemination of technical information for the gear industry. In response to this need, he co-founded Randall Publishing, Inc., and began publishing the award-winning magazine, GEAR TECHNOLOGY, the Journal of Gear Manufacturing, of which he is publisher and editor-in-chief.